Versacourt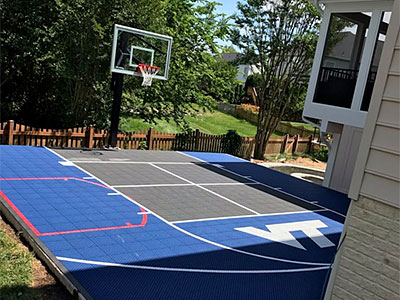 Whether you are a school facilities manager looking for kid-friendly court services or a residential property owner wanting to install a basketball court in your backyard, Versacourt is undoubtedly one of the best products to fit your needs. These surface tiles are made using a specialized construction process and centralized design that is both innovative and unique. It helps to streamline the installation process to improve quality while lowering costs.

Versacourt surface installation requires skill and expertise, and proven professionals like the ones at Natural Surroundings LLC can handle this job for you. We are a premier company in the landscaping and hardscaping space. For over 32 years, we have been serving clients throughout Maryland, DC, and Northern Virginia and have installed Versacourt on many properties here.


Versacourt Installation - Aspects We Consider
As a highly experienced, licensed, and insured company, we complete every project to industry standards and make sure our clients get value for heir money. These installations need careful planning and detailing because inferior quality work will affect the durability of the surfaces. When we handle Versacourt tile fitting for you, there are various aspects we take into account such as:

Our designers will survey the area and will make sure that there is proper space to install the Versacourt surfaces. Depending on your specific needs, they will provide recommendations on the size and location of the court. We understand that residential properties may not have the ideal spaces for these installations. Since we are hardscape designers, it is an added benefit for you. We use our knowledge and experience in this field to ensure that the chosen spot for the court is stable and suitable for the installation. Installing volleyball, basketball, or any other court needs expertise. We also need to make sure that the land is graded perfectly and that we have a clear understanding of where the underground utility installations are. Site preparation is crucial to residential and commercial Versacourt installation projects. We install the gravel and drainage system will after which our team will set the surface tiles in place


Basketball, Tennis or Multi-Game Courts
We are one of the leading Versacourt installers in the region. Our company has handled a significant number of outdoor and indoor custom-designed Versacourt projects for different games and sports. We use advanced engineering technology in our work to make sure that all the surfaces are safe and comfortable for playing. When it comes to backyard recreation or professional-level game courts, we are the company:


Advantages of Versacourt Tiles
Versacourt surfaces are aesthetically appealing
They are far more comfortable than concrete or asphalt surfaces
These high-performance tiles are extraordinarily versatile and lend themselves very well to different types of games and sports.
They have a patented locking system that holds the tiles flat against the ground, providing consistent ball bounce and forgiving playability.
While installation has to be handled by certified experts, the project can be completed within a short period.

If you want superb Versacourt installations, you need the kind of expertise we offer our clients. For any more information about our services and Versacourt cost, contact Natural Surroundings LLC at this number - 301-482-0257. Feel free to drop us a line via this Contact Us form if you have any queries or want to send us your project details. We are eager to help you get your next project started.
We Provide Services to the Following Cities, Towns and Surrounding Regions of MD: