Landscape & Hardscape Services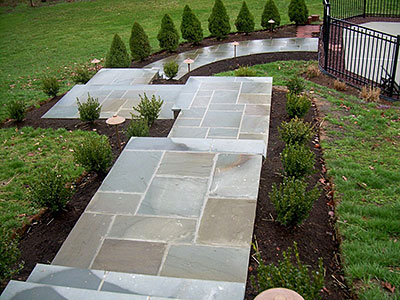 We at Natural Surroundings LLC are a premier company in the landscaping and hardscaping space. We have vast experience in constructing beautiful, functional, and long-lasting landscapes. For over 32 years, we have been serving clients throughout Maryland, DC, and Northern Virginia. As a highly experienced, licensed, and insured company, we complete every project to industry standards and make sure our clients get value for their money. The range of services that we offer includes:


Commercial Grounds Maintenance
Every commercial property owner wants to make sure that their landscape and all the outdoor spaces are maintained correctly. We provide customized grounds care services and ensure that every feature in your outdoor areas is maintained well. As part of these services, we maintain all the softscaping installations as well as the masonry elements. Our team is highly skilled in handling these jobs, and we cater to all of your commercial grounds maintenance requirements. We use the best products and materials in our work, so your landscape is healthy and looks great. Our company focuses on offering value for their money and offers these services at very reasonable costs. Read More About Commercial Grounds Maintenance »


Residential Landscaping
We offer customized residential landscaping solutions and handle projects of any shape and size. While we do handle start-to-end landscape design and installation solutions for new properties, we can also tackle upgrade projects. When you hire us for this job, you can be sure that your landscape will be as perfect as you want it to be. We plan all the hardscaping and softscaping elements to create balanced outdoor areas that are both functional and appealing. The use of high-grade materials and excellent installations go a long way in creating landscapes that look great, are easy to maintain, and last for many years. Read More About Residential Landscaping »


Hardscaping
Every landscape will have a certain number of masonry elements, and these are called the hardscaping. We are expert contractors that offer custom design and installation of hardscapes, including patios, decks, poolscapes, walkways, driveways, and more. Every aspect of the hardscape installation will be planned down to the last detail. It helps to ensure that all the features and structures we plan and design for you are purposeful, resilient, easy to maintain, and appealing all at once. We have experienced paver installers, masons, and other tradespeople that handle the hardscaping installation work to industry standards. Read More About Hardscaping »


Paver Patios
Patios are regularly exposed to the elements making it necessary to use suitable quality materials in their construction. These features are also an extension of the indoor areas of your home, which means that they need to be designed with attention to detail. We provide high-quality paver patio installation solutions to commercial as well as residential clients and can handle projects of any shape and size. You can choose from pavers of different types to create the kind of aesthetic you want on your property. Our company always focuses on providing our clients value for money and you will find that a paver patio cost is extremely reasonable as well. Read More About Paver Patios »


Retaining Walls
Creating a stable, resilient as well as long-lasting landscape requires the right amount of planning. If the outdoor spaces on a property have sloping land or soil erosion issues, we recommend the installation of retaining walls. Concrete masonry blocks, natural stone, brick, etc. are used to build these specially engineered structures. We handle this work to industry standards and use the best retaining wall systems in our projects. These features are sturdy and provide the landscape with the kind of support it needs and can also help prevent soil erosion issues. Read More About Retaining Walls »


Paver Walkways
Most commercial and residential landscapes have some walkway features. We offer paver walkway design and installation solutions to our clients. In some cases, these features could be installed along with a driveway surface. However, if you want paving stone walkways installed in an existing landscape, we can handle that job as well. You can choose from paver stones made of concrete, brick, or natural stone. These units are available in a wide range of styles, textures, sizes, and shapes. We can create unique designs and patterns on your property using walkway pavers of your selection. Read More About Paver Walkways »


Paver Driveways
When you are getting a driveway installed, you want to make sure that the feature is not just appealing but extremely resilient, as well. You need the surface to be long-lasting, and it should be able to endure foot and vehicular traffic. It is why we recommend the use of paving stones for driveways. You can choose from natural stone, brick, or interlocking concrete pavers. We are ICPI-certified installers and use high-quality products from companies such as Belgard and Tech-Bloc in our work. Our seasoned installers ensure that these features are stable and that every unit is fitted correctly to create a firm surface on your driveway. Read More About Paver Driveways »


Water Features
Adding the water element to a landscape is one of the best ways to create a balanced look in the outdoor areas of your property. We provide customized water feature design and installation solutions to residential and commercial property owners. Our hardscape designers have the skill and expertise to plan what are features such as fountains, ponds, streams as well as waterfalls. They make sure the style and aesthetic of these features blend perfectly with the overall ambiance of your landscape. We use high-quality materials in our work so that these outdoor features last for many years without any trouble and create the perfect mood on your property. Read More About Water Features »


Outdoor Living
One of the best ways to use your areas optimally is to get outdoor living features installed in it. We are the hardscaping contractors that can handle all types of outdoor living projects. We can design and build patios, decks, poolscapes, arbors, pergolas, and more. We provide comprehensive solutions; our team can also plan all the other aspects that are part and parcel of this project. Not only do we handle the masonry job but also provide high-quality plumbing, carpentry as well as lighting solutions for all the outdoor features that we build for you. Our high-quality services come at very reasonable outdoor living costs. Read More About Outdoor Living »


Outdoor Fireplaces & Fire Pits
When we are planning a landscape, the focus is always on creating a well-balanced look in the outdoor spaces. In many ways, adding a fire feature helps to achieve this balance. Our designers plan unique outdoor fireplaces and fire pits that fit in beautifully with your landscaping. Not only do we provide you detailed information about the different types of materials available on the market but will also help with the selection. Whether you want an elaborate outdoor fireplace or a smaller natural stone fire pit, we have the creativity and skill to provide tailored solutions. Our expertise extends to creating beautiful areas around the fire features, as well. Read More About Outdoor Fireplaces & Fire Pits »


Versacourt
If you want to get a game court installed on your commercial or residential property, we recommend the use of an innovative product called Versacourt. These tiles are available in different colors and are incredibly resilient. They are ideal for indoor and outdoor game courts, and the installation can be completed quickly. We use the latest techniques in our work and make sure that the site preparation is completed well before we install the Versacourt tiles. Our team will plan every aspect of the installation, including the drainage, grading, and more. What you get are stable and resilient game court surfaces that add to the value of your property. Read More About Versacourt »


Snow Removal
When the snow falls thickly, you need to make sure that you have expert technicians that would be able to handle snow removal for you. We offer solutions to residential and commercial clients and make sure that all the snow and ice are removed efficiently and safely from your property. Our team is highly trained and makes use of the latest heavy-duty snow removal equipment in every project. We offer snow and ice management contracts that are best suited for all types of snow clearing requirements. We make sure that all of your outdoor spaces are clear of snow and ice during the winter months so that you can move in and out of your property without hindrance. Read More About Snow Removal »

If you want superb commercial grounds maintenance solutions, you need the kind of expertise we offer our clients. For any more information about our services and grounds maintenance cost, feel free to contact Natural Surroundings LLC at this number - 301-482-0257. Our team is here to help with every aspect of your service request. Feel free to drop us a line via this Contact Us form if you have any queries or want to send us your project details. We are eager to help you get your next project started.
We Provide Services to the Following Cities, Towns and Surrounding Regions of MD: