Paver Walkways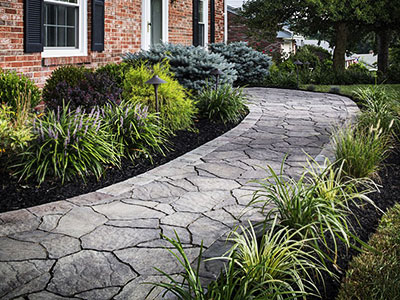 A landscape will have a variety of features and elements that give it a complete look and make it more usable. Patios and decks are some of the most common outdoor living features on most residential properties, and some commercial properties have these elements as well. However, in addition to these installations, you would also need walkways leading into various areas of the landscaping.

These become the perfect way to navigate the outdoor areas on a property without trampling flower beds, lawns, and other softscaping features. Pavers are an ideal choice for commercial and residential walkway installations.


Why Choose Pavers For Walkways?
Walkway features are open to the air. They have to endure regular wear and tear, exposure to the UV rays of the sun, and the elements. Even with proper maintenance and care, certain materials are unable to sustain this exposure and begin to deteriorate quickly. However, there are numerous benefits to choosing paver stones for walkways, such as:


Pavers are incredibly durable and are ideal for any outdoor feature installation. We can create the perfect styles and designs that blend seamlessly with other features on your property, such as a patio or a deck.


Paving stones are available in a variety of styles and shapes as well as colors and sizes, which means that expert designers like us can create unique walkway designs and patterns.


It is easy to maintain walkways made of paving stones. All you need to do is pressure wash them occasionally. If you want to increase the resilience and lifespan of the paver stones, you should get them seal-coated. This application improves the surface resistance to stains and scratches.


Pavers are cost-effective, and you can choose something that suits your budget. For example, interlocking concrete pavers are very reasonably priced. Natural stone and brick pavers tend to be slightly pricier; however, they are very durable and appealing, which means they provide you value for your money.


If you want superb paver walkway installations, you need the kind of expertise we offer our clients. For any more information about our services and paver walkway cost, contact Natural Surroundings LLC at this number - 301-482-0257. Feel free to drop us a line via this Contact Us form if you have any queries or want to send us your project details. We are eager to help you get your next project started.
We Provide Services to the Following Cities, Towns and Surrounding Regions of MD: