Paver Patios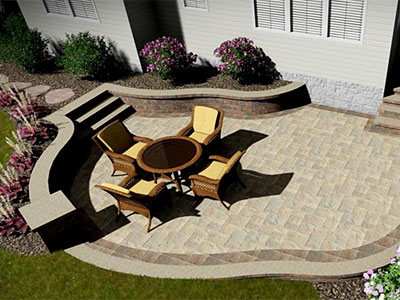 The beauty, resilience, and durability of any landscape depend on the materials used in the different installations. When you choose the right kind of materials and products for various outdoor features, you can be sure that these spaces will look appealing and last for a long time. Most residential and commercial properties have different surfaces that need specific types of outdoor flooring.

You will find that there is no shortage of materials for these areas. However, paving stones have become one of the most popular options for all outdoor living areas, including patios. Pavers are very tough and hardy and extremely versatile. It means they are ideal for patio features as well as walkways or pathways leading into the landscape.


Local Hardscaping Company
It becomes possible to create a seamless transition from the outdoor living areas into your yard space. If you are looking for the perfect balance of aesthetics, resilience, and cost-effectiveness, paver patios are an excellent choice. While these products are incredibly resilient, you still need to hire experienced paver installers for the job. We at Natural Surroundings LLC are a premier company in the landscaping and hardscaping space.

For over 32 years, we have been serving clients throughout Maryland, DC, and Northern Virginia and have designed and built paver patios on their properties. As a highly experienced, licensed, and insured company, we complete every project to industry standards and make sure our clients get value for money.


Custom Paver Patio Plans
As an experienced and renowned company, we work with our clients to ensure that they get high-quality installations. We are ICPI-certified installers, and this is your assurance that any job we undertake will be handled professionally and completed to industry standards. We make sure that the patio design and style are exactly as per your requirements.


Types of Pavers For Patios
There are different types of pavers that you can choose from based on your specific requirements and project needs, such as:


Interlocking Concrete Pavers - These are best-suited for various outdoor areas on commercial and residential properties. They are available in a wide variety of styles, textures, designs, sizes, and shapes. We can create unique patterns and designs on your residential patio with these units.


Brick Pavers - Brick has a classic appeal that is hard to beat. We can install brick paving and will make sure that the design and styling fit in perfectly with your landscape. These units are available in the standard rust-red color, as well as various other hues and tones.


Natural Stone Pavers - Many people like the look of natural stone, and today there are many products available in the market. You can choose from natural stone paving made of travertine, granite, slate, bluestone, flagstone, etc. Our team will provide you detailed information about these different natural stone paving products and their characteristics so you can make a better-informed decision.


If you want superb paver patio installations, you need the kind of expertise we offer our clients. For any more information about our services and paved patio cost, contact Natural Surroundings LLC at this number - 301-482-0257. Feel free to drop us a line via this Contact Us form if you have any queries or want to send us your project details. We are eager to help you get your next project started.
We Provide Services to the Following Cities, Towns and Surrounding Regions of MD: