Paver Driveways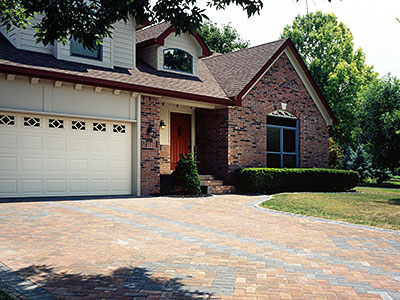 If you are considering getting a new driveway installed on your residential or commercial property, you would want a feature that is durable, appealing, and practical. A driveway is one of the first things that people see when they approach a property. It has a significant role to play in the curb appeal of your home or commercial building.

There are many different materials available in the market today that can be used for driveway installation. However, very few are weather-resistant, easy to maintain as well as durable like paver stones are. We at Natural Surroundings LLC are a premier company in the landscaping and hardscaping space.

For over 32 years, we have been serving clients throughout Maryland, DC, and Northern Virginia and have installed paver driveways of different shapes and sizes. As a highly experienced, licensed, and insured company, we complete every project to industry standards and make sure our clients get value for money.


Custom Paver Driveway Layouts and Plans
No two properties are the same, and it also means you would need custom driveway design solutions. As a company that has been operating in the industry for numerous years, we have the experience, expertise as well as knowledge needed to handle all types of paver driveway installation projects. Our team of hardscape designers works very closely with you.

It gives them a clear understanding of what your preferences, style requirements, and budget needs are. Based on the discussions they have with you, they will provide their inputs and ideas for a unique paver driveway feature.


Benefits of Driveway Pavers
As mentioned earlier, there is a wide variety of materials made for driveway surfaces. However, there are certain distinct benefits to using paver stones for the installation, such as:


Pavers are available in a wide variety of styles, colors, shapes, and designs. You can choose ones that suit your style requirements and are in sync with the design theme of your landscape.
These individual units are easy to install, and expert paver installers complete the new driveway installation within a short period. This is an important aspect, especially for commercial property owners, as they cannot afford a lengthy downtime.
Maintenance of these features is also straightforward, which means you do not spend excessive amounts of time or money on keeping your driveway clean and looking new. It also reduces the overall cost of ownership of the feature for you. If you choose to get your paver driveway seal coated, it will make the surfaces resistant to scratches and stains.
Pavers are very durable and can last for decades when they are maintained well.
While natural stone pavers are slightly more expensive than brick or concrete interlocking units, all these materials provide value for money, making them a cost-effective option for all types of commercial and residential driveway installations.

If you want superb paver driveway features, you need the kind of expertise we offer our clients. For any more information about our services and paver driveway cost, contact Natural Surroundings LLC at this number - 301-482-0257. Feel free to drop us a line via this Contact Us form if you have any queries or want to send us your project details. We are eager to help you get your next project started.
We Provide Services to the Following Cities, Towns and Surrounding Regions of MD: