Retaining Walls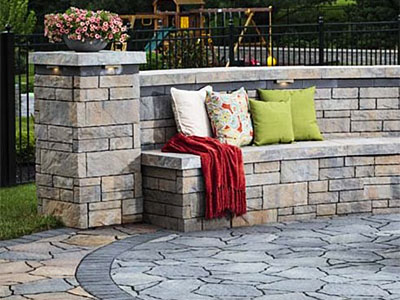 Numerous features and elements go into the construction of a landscape. Aside from the plantings and various hardscaping features, it is also essential to make sure that the outdoor spaces are stable and sustainable. It's where retaining walls come into the picture.

These specially engineered block wall systems are best suited for landscapes that have sloping areas or soil erosion problems. The structures provide support to the landscape and can also be used to demarcate spaces, for optimal use of the available outdoor areas.


Retaining Wall Design and Installation Solutions
As a highly experienced, licensed and insured company, we complete every project to industry standards and make sure our clients get great value for their money. While it may seem that designing a wall should not be such a challenge, retaining wall systems require proper planning and attention to detail.

As skilled hardscape contractors, we have the experience, knowledge and skill needed to handle all types of residential and commercial retaining wall installation projects. We have seasoned retaining wall installers that build the features as per the plans provided by our knowledgeable and professional hardscape designers.


Retaining Wall Construction
We use high-quality concrete masonry units, but some retaining wall installation projects call for the use of brickwork as well as concrete and natural stone. Since we customize our services, you get the type of features that will fit in perfectly with the design aesthetic of your landscape. Our company has handled a significant number of retaining wall installation jobs over the years.

There are various segmental retaining wall products on the market. But we always recommend the use of high-grade products manufactured by companies like Belgard, Tech-Bloc etc. We are authorized dealers for Tech-Bloc products and can help you with material choices.

Creating resilient, stable and aesthetically appealing as well as long-lasting retaining walls requires skill and expertise. With decades of experience behind us, you can trust that we will provide you with the kind of solutions that will add value to your property and meet your functional requirements.


Retaining Wall Ideas and Plans
We believe that even simple features such as walls can be unique and attractive. It's why our designers provide exciting ideas such as retaining walls with inbuilt seating or planter spaces. These features serve a dual purpose and create a fascinating look in your landscape. We can also build multi level retaining walls along the periphery of walkways leading down slopes.

If you want superb custom block wall installations, you need the kind of expertise we offer our clients. For any more information about our services and retaining wall cost, contact Natural Surroundings LLC at this number - 301-482-0257. Feel free to drop us a line via this Contact Us form if you have any queries or want to send us your project details. We are eager to help you get your next project started.
We Provide Services to the Following Cities, Towns and Surrounding Regions of MD: